Cert-Ex™ Lab Simulator for A+ : Lab Exercises
Identifying the various methods to secure mobile devices
Description: This exercise helps to know about the various methods to secure mobile devices and their features.
Instructions :
1.Various methods to secure mobile devices are given on the column A
2.Their features are given on the column B
3. Match (drag and drop) the method given on Column A with their appropriate feature given on the column B.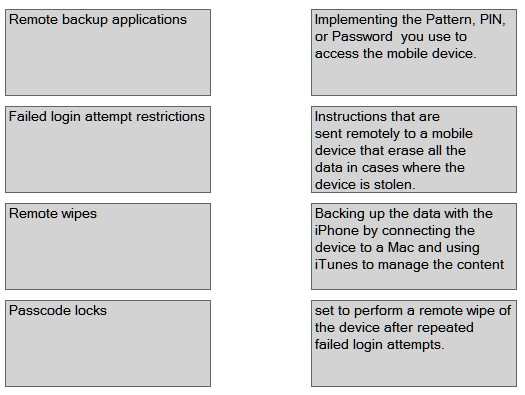 Explanation:
Passcode locks: One of the most basic security measures is to implement a passcode lock on the device. This is akin to implementing the password you use to log on to your desktop or laptop. This can prevent someone from using the mobile device if it is stolen.
1. Setting the password on an Android phone is done by navigating to Settings Location & Security ⇒ Change Screen Lock. On the Change Screen Lock page, you can set the length of time the device remains idle until the screen locks as well as choose a method from None, Pattern, PIN, or Password. Select Password, and then enter the desired password.
2. On an iOS-based device, navigate to Settings General Passcode Lock ⇒ ⇒ to set the password and Settings ⇒ General ⇒ Auto-Lock to set the amount of time before the iPhone locks.
Remote wipes : A remote wipe refers to a system where an administrator has the ability to remotely delete data on a hardware device or system. Remote wipe features are often part of comprehensive security management systems that address issues like bring your own device (BYOD) policies or security gaps in distributed computing networks.
Remote backup application: Online backup, also known as remote backup, is a method of offsite data storage in which files, folders, or the entire contents of a hard drive are regularly backed up on a remote server or computer with a network connection.
Failed login attempt restrictions: This feature is available on a mobile device which can be set to perform a remote wipe of the device after repeated failed login attempts.
1. On the iOS, the Erase Data function can be set to perform a remote wipe after 10 failed passcode attempts. After 6 failed attempts, the iPhone locks out users for a minute before another passcode can be entered. And the device increases the lockout time following each additional failed attempt.
2. The Android does not have this feature built in but does provide the APIs that allow enterprise developers to create applications that will do this.