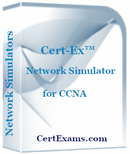 CCNA Cheatsheets are provided free with every purchase of CCNA Exam Simulator or Network Simulator.
CCNA Cram Notes are provided free with every purchase of Cert-Ex™ Exam Simulator for CCNA or Cert-Ex™ Network Simulator for CCNA.

Cert-Ex™ CCNA Network Simulator provides advanced router/switch network simulator functionalities including VLANs, VTP, interVLAn communications, RIP v2, OSPF, and WAN protocol simulation. The important features of the CCNA NetSim are given below:
Router Network Simulator
Lab exercises -currently 100+ labs are included with scenario type labs for NAT, OSPF, EIGRP, Access Lists, and others.
Simulate Cisco® IOS routers and Switches, supports 17XX, 25XX, 26XX, and 36XX routers, and 19XX, and 29XX switches.
Several lab exercises are made available with the router simulator. The labs are intended to give familiarity with the router or switch commands.Example labs can be viewed here. Complete list of labs is available with the Labs Manual of the downloaded software.
Please contact sales[at]certexams.com for academic pricing for bulk licenses.